NEBOSH IGC open book examination (OBE) Online Training
NCB's NEBOSH International General Certificate in Occupational Health and Safety (IGC)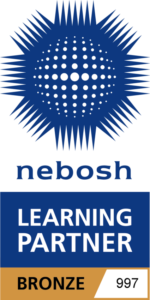 provides a broad understanding of health & safety issues and is an essential qualification for
anyone working in or wanting to work in safety & health anywhere in the world. The NEBOSH
IGC enables you to apply for many different health and safety jobs, such as Health & Safety
Officer, Advisor, Superintendent, etc. in almost any industry.
The NEBOSH International Certificate is widely respected by employers worldwide and meets
the requirements for Technician Membership of IOSH (Tech IOSH) and Associate Membership
of IIRSM (AIIRSM).
Unit IG1: Management of Health and Safety
Why we should manage workplace health and safety
How health and safety management systems work and what they look like
Managing risk – understanding people and processes
Health and safety monitoring and measuring
Unit IG2: Risk Assessment
Physical and psychological health
Musculoskeletal health
Chemical and biological agents
General workplace issues
Work equipment
Fire
Electricity.
Assessment:
Unit IG1 is assessed by a scenario-based assessment completed at home. You have 24 hours to complete this.
Unit IG2 is assessed by a three-hour practical assessment carried out in your workplace (or another suitable workplace)
Throughout the year, exams are held every month.
NCB's NEBOSH General Certificate ONLINE
Available 24/7 Worldwide
Around 130 hours of study (can be completed in 3-9 months)
NCB Online Learning
Study at your own pace with flexibility

The completion of exams both at home and at work

Support from a team of expert tutors is available at no additional charge

Innovative, mobile-friendly,and interactive online study course featuring videos, animations, quizzes, tests, and progress assessments
Modes of study
Taught (face-to-face), open, and distance learning
Part-time
Block release
eLearning
Recommended
Tuition hours:       65 Hours commended
Self-study hours: 40 Hours
Pass standard
The provisional pass mark for IG1 is 45%
The pass standard for IG2 is contained in the IG2 guidance
Qualification grades
The qualification grade is based on the result from Unit IG1
Distinction: 75 marks or higher
Credit: 65 – 74 marks
Pass: 45 – 64 marks
Refer: 0-44
NEBOSH IGC Course Fees
How much does a NEBOSH certificate course cost?
The NEBOSH International General Certificate in Occupational Health and Safety (IGC) costs start from 150 Kd for an online course, plus assessment fees. The cost includes expert tuition and learning materials. The certificate is widely recognised and can help kick off your career in health and safety, making it a valuable investment.
The cost of the NEBOSH International General Certificate in Occupational Health and Safety (IGC) varies depending on the course provider and where or how you take the course, for example, whether you want to learn online or within a classroom setting.
Course type                                                                   Approximate costs
Training center attendance:                                  300 KD
Live Online:                                                                 180 KD
E-Learning:                                                                 160 KD
NEBOSH IGC Re-sit exam fees:                           80KD
Upcoming Training
| | | | |
| --- | --- | --- | --- |
| Unit | Upcoming Training | Examination date | Results notification date |
| IG1 (English only) | 20 January 30 January | 08 February 2023 | 21 April 2023 |
| IG1 (English only) | 18 February 28 February | 08 March 2023 | 22 May 2023 |
| IG1 (English only) | 20 March 30 March | 05 April 2023 | 20 June 2023 |
| IG1 (English only) | 20 April 30 April | 03 May 2023 | 13 July 2023 |
| IG1 (English only) | 20 May 30 May | 07 June 2023 | 16 August 2023 |
| IG1 (English only) | 20 June 30 June | 05 July 2023 | 14 September 2023 |
| IG1 (English only) | 26th July to 5th August | 09 August 2023 | 19 October 2023 |
| IG1 (English only) | 20th August to 5th August | 06 September 2023 | 15 November 2023 |
| IG1 (English only) | 20th September to 30th September | 04 October 2023 | 13 December 2023 |
| IG1 (English only) | 24th October to 04 November | 08 November 2023 | 25 January 2024 |
| IG1 (English only) | 24th November to December | 06 December 2023 | 22 February 2024 |
Useful links & resources
https://www.nebosh.org.uk/qualifications/international-general-certificate/#resource
Submitting an Enquiry About Results: https://www.nebosh.org.uk/policies-and-procedures/enquiries-about-results-ears/
· Submitting a verification request: https://www.nebosh.org.uk/policies-and-procedures/verifications/ 
· Refunds: https://www.nebosh.org.uk/policies-and-procedures/refunds-policy-and-procedure/
· Qualification information and syllabi: https://www.nebosh.org.uk/qualifications/ 
· If you want to register for an examination please do so via your NEBOSH accredited Learning Partner which will be able to advise you of upcoming dates, fees and registration deadlines.
 Contact us for more info
National Certification Bureau HSE Training & Consultancy
Office number 10,2nd floor, Grand hyper building fahaheel, Kuwait
Mobile: +965 67097786
info@ncbme.com www.ncbme.com
Firstly I would like to Thanks Syed Zia Sir,Managing Director of NCB for your outstanding support through out the course .I recently completed the NEBOSH IGC course at NCB Institute, and I am extremely satisfied with my experience. The institute's commitment to providing top-notch occupational health and safety education is evident throughout the course. The instructors were highly knowledgeable and experienced in the field, making complex topics easy to understand. They were patient and willing to answer all our questions, ensuring we grasped the material thoroughly. The course materials provided were comprehensive and up-to-date, making it easier to study and prepare for the exams. The institute also offered excellent support, with regular mock exams and feedback sessions to gauge our progress.I appreciate the flexibility in scheduling, allowing working professionals like me to balance their studies and career.In conclusion, NCB Institute's NEBOSH IGC course exceeded my expectations, and I highly recommend it to anyone seeking a career in occupational health and safety. The knowledge and skills I gained will undoubtedly benefit me in my professional journey
Alhamdulilah i have successfully completed NEBOSH IGC through NCB. It was very nice experience for me.I would highly recommend NCB in Fahaheel Kuwait, those students who are willing to take the NEBOSH. NCB is the best Institute which keeps providing different types of Courses by providing study material for easily pass the examination.Online learning HSE courses under the guidance of Dr. Akbar Ziauddin is highly appreciated & respected, Dr. Akbar sir is highly qualified in his field of work delivering qualitative Training with appropriate standard of detailed education to the students regarding technical words, with good explanation, and motivated to write the exam and fullfill our dreams
Good training center It helped me to get prepared for nebosh exam and pass the exam
They are very supportive. Training sessions are good. All communications are apt. and transparent. Very good guidance for exam preparations.
First and foremost, I want to thank Mr. Syed Zia for supporting me throughout the process and helping me pass the NEBOSH IGC on my very first try.To anyone wishing to begin a career in HSE, I heartily recommend NCB. I had an excellent experience with them, and the session with Dr. Akbar, who has much expertise and understanding in the topic, enabled me to learn more about it.
LAVINTZZZ WORLD
2023-08-16
I have a great experience while studying in the institution also they teaching method was unique & I will recommend for all hse profession
NCB training centre can be trusted any day, any time. Base on my experience with them I can confidently recommend them to anyone who wishes to enroll for safety courses.
NCB is the great institute for learning about HSE in Kuwait and all teachers in this institute are very knowledgeable.I did NEBOSH successfully from NCB.
Course Features
Lectures

0

Quizzes

0

Duration

10 days

Skill level

All levels

Language

English

Students

15

Assessments

Yes